Day Eight - The Old City of Jerusalem- by Connie Suson
06/29/2015 05:37:58 PM
Following another lavish breakfast at our hotel, we boarded the bus and first stopped along the boardwalk overlooking Jerusalem. While enjoying the breathtaking views on a glorious day, our guide Muki was explaining the history and lay of the land. Sharing the expansive plaza was a group celebrating a Bar Mitzvah. It's amazing and comforting to realize that Judaism and Jews are always surrounding you here.
We then moved on to visit a Karaite Synagogue. Followers live strictly in accordance with Torah laws, nor Rabbinic laws, so there were many questions. After taking off our shoes and washing our hands, we descended into the 1300 year old synagogue where we saw the oldest Torah.
We then visited the Cardo, Broad Wall and Hurva Square. While some got a bit of lunch, others shopped in the many shops. In the afternoon we had a tour of the Western Wall Tunnel, a tour of the City of David, followed by getting a peek at a yet to be announced dig within the original old city. To cap off our afternoon, we explored deep underneath the city street, at the base of the Wall in what once was a sewer system. We were all exhausted!
After free time to recharge a bit, we were treated to another multi-course, delicious meal at a local restaurant. It was ok though, as we burned so many calories during the day!
Another busy, educational and glorious day in Israel!
Day Seven - Shabbat in Jerusalem - by Beverly & Danny Wolf
06/29/2015 05:03:59 PM
Woke up this beautiful, sunny Sabbath morning to another incredible breakfast. We walked across the street to the Great Synagogue (Orthodox) for Shabbat Services and we were quite impressed by the elegant decor. After services, we met at the Fuchsberg Center for a delicious Shabbat lunch. We then had a free afternoon to explore Jerusalem with the Rabbi. By this time it was quite warm outside and we walked to the Western Wall. We had to make a few stops to rest, but it gave us time to enjoy the incredible views. When we reached the wall, I was so overcome, since this was our first trip to Israel, that I had chills running up my spine. There were people praying at the wall.
We were invited back to the Rabbi's room, which overlooked the Old City of Jerusalem, for the Havdallah Service. Afterwards, we had dinner on our own and proceeded to get serious, spending our shekels on some Israeli souvenirs to take back to the states!
Day Six - Jerusalem - by Sheila & Herb Grossman
06/29/2015 01:42:34 AM
After a sumptuous breakfast, we boarded the bus headed for Yad Vashem, Israel's memorial to the victims of the Holocaust. Muki, our guide, explained that the name Yad Vashem comes from the Book of Isaiah and was chosen to honor the Jewish victims of the Holocaust who have no one to carry their name after death. One meaning of Yad is monument and that of Shem is names. So, it is a remembrance of the names of the otherwise nameless victims. The goals of Yad Vashem are education, research, documentation and commemoration. The main building itself is solemn and stark and consists of a long concrete corridor connected to 10 exhibition halls, each dedicated to a different chapter of the Holocaust. The substance of the exhibit is the various stages of the extermination campaign as it gathered intensity and changed its focus, with the removal of all restraint and concealment at the inception of the war. We spent over three hours at Yad Vashem and were grateful to have the insights and guidance of our guide Muki. In addition to the Holocaust History Museum, we also saw the Children's Memorial and the Hall of Names. We were saddened by our visit but also impressed by the meticulous attention to detail and the cutting-edge multimedia presentations.
Next we visited the Machaneh Yehudah open-air market where those of us who were no longer bloated from our sumptuous breakfast at the hotel ate some lunch. You won't find a market like this in Washington!
Our next stop was the Shutaf Inclustion Program for Children and Teens with Special Needs in Israel. This non-profit Jerusalem-based education program was founded in 2007 by two mothers of kids with special needs and is a supplement to the regular in-class education system.
After a delicious dinner at a kosher Italian restaurant, we went to see and hear the Night Spectacular program at the Tower of David Museum. This is a 45-minute sound and light celebration of the history of Jerusalem in its various incarnations during its cycle of destructions and reconstructions. All of us enjoyed the tromp d'oeil presentation.
Day Five - Birds & the Bees - by Dale Kaye
06/28/2015 08:21:17 AM
I love Israel, everything about it, but perhaps my favorite part is of the trip is Friday. No, not because שבת is coming although that would be enough on its own but because we finally go to ירושלים.

It doesn't seem to matter what else we do this day it could be the most interesting things (which it was) from visiting a Nature Reserve and learning about the bird migrations which occur over the land of Israel every year or visiting a Bio-Bee Biological Kibbutz to learn about the mass production of insects that are used instead of pesticides for growing fruit. As we ascend to ירושלים the feeling I get is indescribable. I have had this privilege to be here many times and each time is more spiritual then the last.
Welcoming the
שבת is always special as we went to a secular and traditional kabbalat שבת at the new train station on the footprint of the original train station. It included a quartet of musicians playing music welcoming the שבת in front of Orthodox, Conservative and Reform... who would of that thought in Israel, of all places, an all inclusive service. This was followed by a beautiful traditional service at Shira Chadasha a must do
to usher in the שבת
.
Day Four - The Golan - by Sharon Cohany & Janet Eackloff
06/25/2015 04:14:02 PM
After another bountiful breakfast buffet, we headed south to Tzfat, long a Jewish spiritual and artistic center. Tzfat is the home of both Isaac Luria, who revolutionized Jewish philosophy through the Kabbalah, and Joseph Caro, who revolutionized Jewish law through the Shulchan Aruch, codifying and simplifying daily Jewish practice. We visited both men's synagogues and also were fortunate to witness a bar mitzvah procession, complete with musicians and hundreds of celebrants. Some of us then perused the art galleries and jewelry boutiques, while others of us rested.

Uri then described the history of the borders of Israel and her neighbors. A simple and delicious lunch was at a falafel and shwarma stand adjacent to a UN office on the Syrian border.

Overlooking the much contested landscape, we learned more about the 1967 and 1973 wars, and the current situation. Two UN soldiers were stationed within earshot, and they said it was a quiet day today. To fortify us for the trip home, we patronized the elegant "coffee shop in the clouds" (named Coffee Anan. Really.) and admired the verdant crops growing beneath us.

Now it's time to explore the lush grounds of the beautiful kibbutz that is our temporary home. It is hard to say farewell to the fascinating and stunning Kinneret.
Day Three - Heading North - by Barbara & Stan Kagan
06/24/2015 09:31:27 AM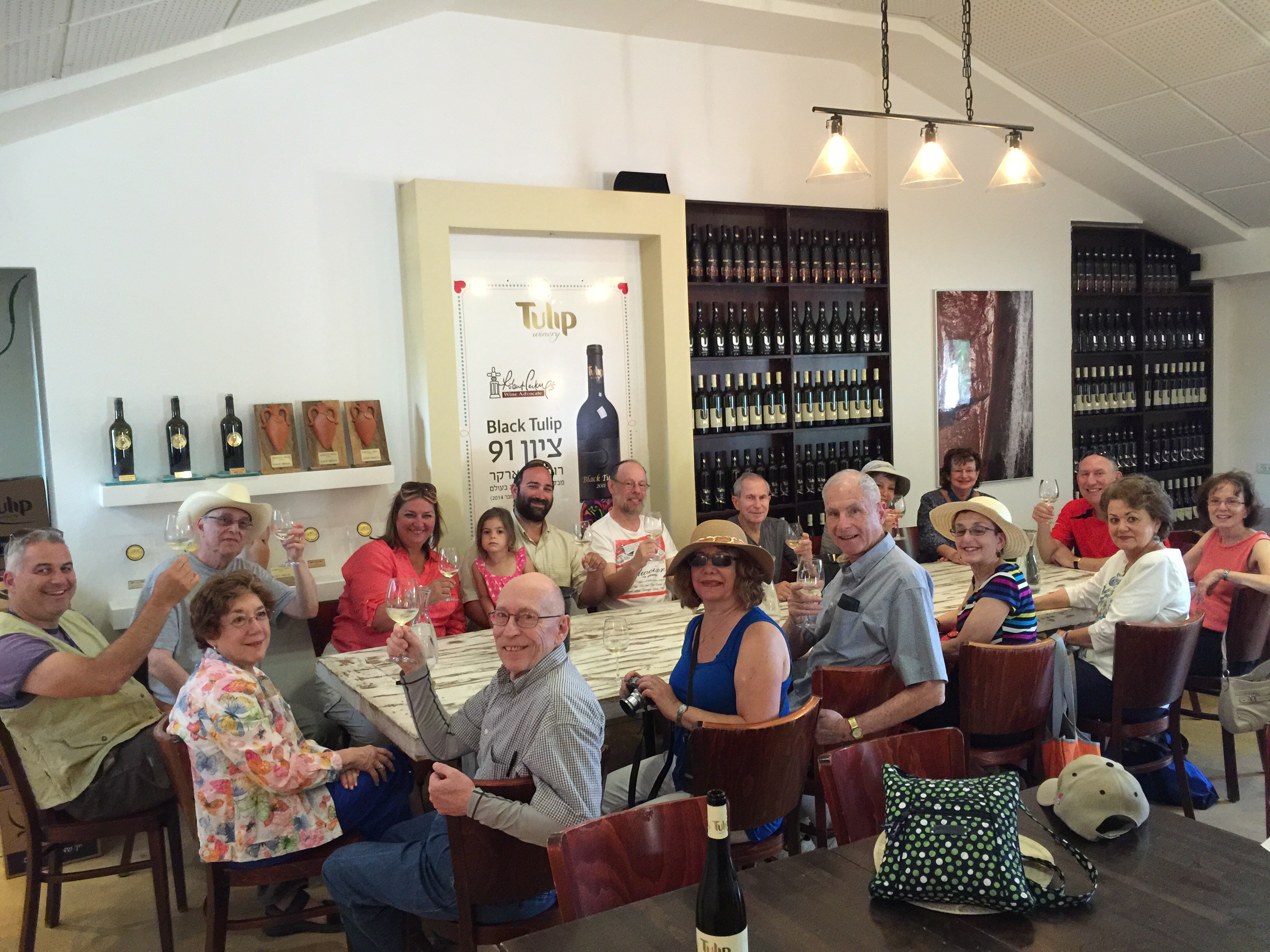 We left Tel Aviv and travelled north along the "way of the sea" to Atlit. Atlit was established as a British internment camp for Jewish refugees who were caught trying to immigrate to Palestine during the British Mandate. We toured the grounds and facilities which included barracks, large disinfectant machinery and showers. The refugees were held there until they could be admitted to Palestine or deported to Cyprus. There was also a mikveh, introduced after the British left, when the facility was used by Israel for the continuing flow of refugees. We toured a ship similar to the ones that could carry approximately 500 refugees to the Palestinian territory. We saw the extremely cramped bunks needed to accommodate the enormous demand. We found the Atlit tour to be fascinating.

Next we heard the history of the Tulip Boutique Winery at Park Tikvah and went wine tasting (four samples - good stuff - hiccup!). Of interest, they employ adults with special needs and donate a part of their profits.

Finally, we were given a tour of Kibbutz Hanaton. It has an emphasis on Jewish pluralism and diversity. It is a growing community, currently with about 70 families, and a waiting list.

The Hebrew word we learned today was sababah, which means "cool." Our day today was somewhere between sababah and great.
Barbara and Stan Kagan
Day Two - Tel Aviv - By Elaine & Sid Waldstreicher
06/24/2015 02:39:43 AM
Wow! What a great day, our first whole day in Tel Aviv. We started our day with an unbelievable buffet breakfast at the hotel. Seriously. You have to see it to believe it!

We then walked to the Mediterranean and saw Jaffa. We also saw a young man kayaking, standing up! Near the water
we saw an Adult Workout Park (for exercise), something new to us

We toured N'we Tzedek, the early beginning of Tel Aviv, and learned that it was the first place where Hebrew was taught as a spoken language, not just a Biblical language.

After lunch we went to the Palmach Museum where we participated in a 90 minute interactive exhibit and learned all about the early beginnings of this "strike force" and how this group of teenagers and young adults helped defend Israel, both before and after it became a state.

Next we spent a wonderful afternoon at the Save a Child's Heart ICU and saw 7 kids currently there. We heard from two of the head pediatric cardiologists who Ami Cohen enlisted when he envisioned the program. Clearly this program is as special to them as it was to Ami from HTAA. We also visited the new Children's Home where the kids go to recover after their surgery or heart procedure. We talked to the kids, the volunteers, and the remarkable woman who is the house mother. At the end of our visit, we all wished that the political aspects of the Palestinian/Israeli relationship could work as well as the medical collaboration.

We ended the day with a lovely group dinner at a Mid-Eastern grill -- all kinds of salads /appetizers followed by shish kabobs and dessert.

It was a wonderful first day. We look forward to tomorrow when we head north! Is tomorrow already Wednesday?
Day Two - Tel Aviv - Save a Child's Heart visit
06/23/2015 09:37:56 AM
Day One - Arrival in Tel Aviv - by Joan Eisenberg
06/18/2015 08:43:45 PM
We arrived at the Ben Gurion Airport at 7:00 AM. The El Al flight was quiet and uneventful. The Rabbi, his mother, Connie Suson, and Mara were on our flight. When we all retrieved our bags, we headed outside to look for a sherut (shared taxi) to the Dan Panirama in Tel Aviv. the driver thought we were going to the Dan Panorama in Jerusalem! Bill saw the signs suggesting that we were going the wrong direction. The Rabbi pointed out the error to the driver who protested loudly that he was sure Rabbi Suson said Jerusalem. The driver was so angry that he deposited us back at the airport where we found a cab to take us to or destination.
After we we settled in, I discovered that breakfast was still being served. I informed everyone and we ate the most delicious breakfast ever.
Brcause we we had been on the go for almost two days, Bill and I rested a while. We then walked to a local bazaar to catch the flavor of Tel Aviv. We returned to the Dan Panoramas and met out synagogue friends for dinner in the hotel dining room, after eating a complete, , magnificent dinner, our tour guide, Uri, said our tour would start at 8AM sharp.
We retired to our respective rooms to finally get a good nights rest. The Tel Aviv weather could not be better. The temps are in the 80's and the sun is bright. We look forward to the start of our touring tomorrow.
View from our hotel room balcony in Tel Aviv
Fri, September 22 2017 2 Tishrei 5778